CDE at the Conference of the Parties of UNCCD

Today, around two billion hectares of land—twice the size of China— are degraded, with little economic or ecological value. Land degradation working in tandem with climate change and biodiversity loss may force up to 700 million people to migrate by 2050.
Three out of every four hectares of land have been altered from their natural states and the productivity of about one in every four hectares of land is declining. Poor land health is on the rise, impacting 3.2 billion people all over the world.
Land use and sustainable land management goals
The UN Convention to Combat Desertification (UNCCD) holds its 14th Conference of the Parties (COP) on 1–13 September 2019 in New Delhi, India. It's the place where governments agree on strategic and effective land use and sustainable land management goals to ensure nature and ecosystems thrive. The Conference is expected to agree on about 30 decisions to ramp up and develop further actions needed on the ground to ensure that the Convention's goals for 2018-2030 are achieved.
CDE scientist represents Switzerland at UNCCD's Committee on Science and Technology
CDE scientist Markus Giger will participate in the meetings of UNCCD's Committee on Science and Technology. This committee is the place where discussions are held on scientific and technological matters relating to combating desertification and mitigating the effects of drought. Topics include indicators for monitoring desertification, guidance for implementation of land degradation neutrality and documenting best practices in combatting desertification. Markus Giger has been mandated by the Swiss Agency for Development and Cooperation to participate in these meetings as part of the Swiss Delegation to the conference.

UNCCD-WOCAT partnership
The Conference will focus on the critical gaps in land management and planning, but also on practical actions to ensure that the successes we are achieving – increasingly evidenced at the biophysical level –, improve human well-being everywhere. The recommended database for sharing and reporting best practices in sustainable land management of UNCCD is WOCAT, a global network on sustainable land management, whose secretariat is hosted by CDE. UNCCD-WOCAT partnership
CDE's sessions and side events at COP14
Within the framework of WOCAT, CDE researchers will be part of the following side events to present new insights into the research of sustainable land management (SLM), new tools and methods for SLM and land degradation neutrality, as well as lessons learned from SLM activities with partners around the globe:
3 September: Decision support for mainstreaming and scaling out sustainable land management to achieve land degradation neutrality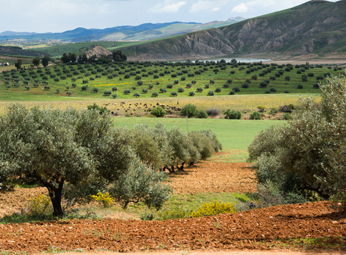 The Global Environment Facility/FAO project "Decision support for mainstreaming and scaling out SLM" with WOCAT as implementing partner has developed a decision support framework to provide guidance to countries on scaling up SLM. The framework links land degradation and SLM assessment tools at different scales and embeds them in the development of an SLM mainstreaming strategy. Representatives from four or five project countries (out of 15) will showcase their experiences and processes established for scaling up SLM in specific landscapes and how this contributes to achieving land degradation neutrality.
4 September: Showcasing on- and offsite impacts of sustainable land management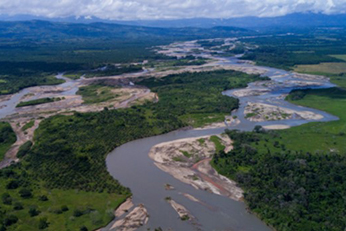 Evidence on both on- and off-site impacts of SLM in selected case study regions has been gathered by WOCAT and its partners to assess a) how upstream SLM investment can reduce flood disasters in Haiti and Colombia, b) how SLM in water- and spring-sheds can secure reliable water supply for rural communities in North India, for the city of Nairobi and for hydropower production in the Tana River Basin, and c) how SLM can prevent devastating wind erosion in Iceland. In this side event, SLM experts will provide first insights on how they identified, assessed and visualized the on- and off-site impacts of SLM, leading to an open discussion on how to account for on- and off-site SLM impacts in land management to leverage achieving Land Degradation Neutrality and the Sustainable Development Goals.
4 September: Sustainable transition of shifting cultivation systems for land degradation neutrality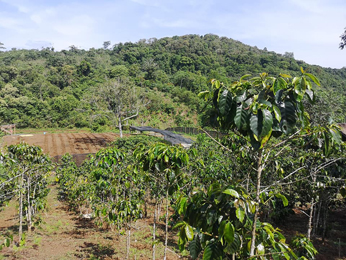 Organized by the International Fund for Agriculture Development (IFAD) in collaboration with ICIMOD, the International Land Coalition (ILC), WOCAT and the United Nations University, this side event will help to raise awareness of how sustainable transitions and management of shifting cultivation systems, notably fallow, can support climate change resilience and adaptation, contribute to land degradation neutrality, and increase carbon storage via agro-forestry and innovative land and water conservation approaches.
5 September: We have targets now, but how do we achieve land degradation neutrality? Decision Support Tools for planning and monitoring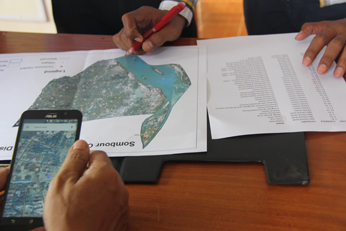 Land degradation neutrality (LDN) is one of the objectives of the 2030 Agenda to be achieved by 2030. Most countries submitted land degradation baselines against which progress will be measured, and defined targets that will inform activities to avoid, reduce and reverse land degradation. But key gaps in planning, monitoring and evaluation still exist that hamper these ambitious goals. The side event brings together key global tool and dataset providers – including Conservation International, LandPKS, and WOCAT – and country representatives to present and discuss tools available for countries and practitioners to support the assessment and monitoring of LDN as well as the decision-making progress, and to reflect on country experiences and key needs of countries for achievement of LDN by 2030.
5 September: Regional initiative to counter land degradation in the Mediterranean, Near East and Eastern Europe – LANDMEDNET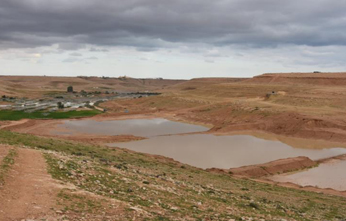 The Mediterranean region is characterized by acute scarcity of land resources suitable for production due to aridity, inherently poor soils in many areas, and occurrences of poor land management. Organized by CIHEAM Bari, FAO, and WOCAT, the aim of this side event is to present progress towards establishing the Mediterranean initiative. The initiative strives to coordinate action for sustainable land management, strengthen regional/sub-regional knowledge management, and enhance harmonization of data, tools, strategies, and policies on SLM. It also seeks to establish a knowledge hub on investment opportunities in combatting land degradation and implementing SLM. Finally, the overarching goal of the initiative is to support countries in achieving the targets of land degradation neutrality.
6 September: Land degradation neutrality: Restoring balance in our natural and working landscapes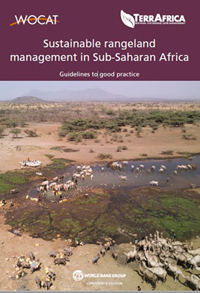 A recent analysis shows that progress towards land degradation neutrality is quite mixed. A key challenge lies in mobilizing investment for rangeland restoration: the most dominant biome in drylands. This side event, organized by IUCN, will discuss rangelands and pastoralists in land degradation neutrality responses and showcase the recent report by WOCAT and the World Bank on sustainable rangeland management in Sub-Saharan Africa. The goal of these guidelines is to contribute to improved rangeland management by illustrating a wide range of innovative practices, clarifying their characteristics and requirements, and illustrating their impacts on ecosystem services and human wellbeing. In addition, the "Guidelines on sustainable rangeland management in Sub-Saharan Africa" will be launched at this side event.
6 September: Sustainable land management and climate change mitigation co-benefits: the CBP, WOCAT, LandPKS linked toolset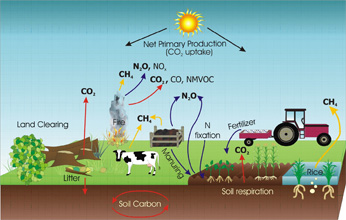 Countries working towards land degradation neutrality (LDN) need information on appropriate sustainable land management (SLM) and tools to help them report on the effectiveness of SLM practices and how they impact key indicators such carbon stored in soils and biomass. As part of the Global Environment Facility's "Sustainable land management and climate change mitigation co-benefits" project, WOCAT and the LandPKS mobile phone app has been linked to the Carbon Benefits Project (CBP) tools that estimate impacts on carbon stocks and greenhouse gas emissions. This side event showcases the linked set of tools and presents examples of their use, in addition to providing information on how attendees can access and use the tools to help report on LDN-relevant activities.