Towards more sustainable water governance
Socio-ecological analysis of water governance through Water User Associations in semi-arid Central Asia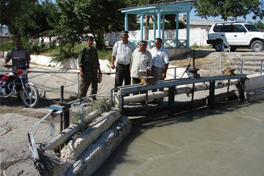 Key messages
Common pool resources such as irrigation can be governed via common property regimes, where rights and duties are adequately enforced.
Institutional change in the irrigation sector of Central Asia occurred without considering informal institutions, such as respect for local traditions, culture, and norms. These reforms were mainly targeted at adopting approaches based on other governments' experiences of what was considered "successful" (e.g. in Spain and Turkey).
In sustainable water management, an important role is played by the indigenous knowledge and informal institutions that exist in the Central Asian region.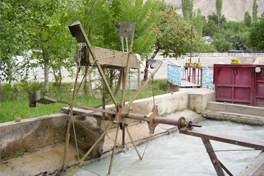 Background and project goal
In the mid-1990s, after the collapse of the Soviet Union, the Central Asian countries embarked on agricultural reform. Former large-scale collective farms were transformed into different modes of individual farming. This situation has brought chaos and conflict, especially in on-farm water allocation. Water User Associations (WUAs) were created to solve the problems. The main aim of this research is to understand and compare key potentials and limitations of WUAs in Central Asia by assessing the role of institutions and related socio-economic and environmental outcomes in view of enhancing collective action aiming at more sustainable water governance of on-farm irrigation water management.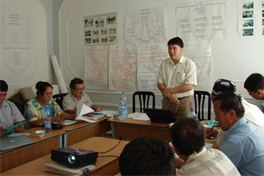 Methods
The comparative case study approach is based on a household survey and semi-structured interviews with WUA members, and government and private development organizations.
Summary of results
The table below shows an initial comparison of the application of common-pool resource design principles in Uzbekistan, Tajikistan, and Kyrgyzstan, The Tajik and Uzbek case studies were in the Ferghana Valley, while the WUAs in the Kyrgyz case study were outside the Ferghana Valley part of Kyrgyzstan.
Project duration: 2013 - 2018
Publications
Djumaboev K., Hamidov A., Anarbekov O., Gafurov Z., Tussupova K. (2017). Impact of Institutional Change on Irrigation Management: A Case Study from Southern Uzbekistan. Journal Water 2017, 9(6). 419. http://www.mdpi.com/2073-4441/9/6/419
Anarbekov, Oyture (contributing author to chapter 2). Global Environmental Outlook GEO 6: Assessment for the Pan European Region. UNEP/UNECE 2016. ISBN:978-92-807-3545-I.
Anarbekov, O.; Wichelns, D.; Akramov, I. [NARS]; 2016. Assessing the financial and economic viability of water user associations and canal management organizations in Ferghana Valley countries of Central Asia. Paper presented at the IAAE [International Association of Agricultural Economists] Inter-Conference Symposium on Agricultural Transitions along the Silk Road Restructuring, Resources and Trade in the Central Asia Region, Almaty, Kazakhstan, 4-6 April 2016. 3p.
Anarbekov, Oyture; Mukhamedova, Nozila 2015. Presented presentation on "Water Users' Associations in Central Asia: Opportunities and challenges for development". [Submitted only Abstract]. IAMO (Leibniz Institute of Agricultural Development in Transition Economies) 2015 Annual Forum: Agriculture and climate change in transition economies. Dates: 17 – 19 June 2015 | Halle (Saale), Germany.
Mochalova, E. [NARS]; Anarbekov, Oyture; Kahhorov, U. [NARS]; 2014. Institutions as key drivers of collective action in WUAs [Water User Associations] of Uzbekistan. International Commission on Irrigation and Drainage (ICID). 22nd International Congress on Irrigation and Drainage: securing water for food and rural community under climate change, Gwangju, Korea, 14-20 September 2014. Transactions. Volume 1. Question 58 and 59. New Delhi, India: International Commission on Irrigation and Drainage (ICID). pp. 228-229. (ICID Transaction 31(A)).
Partners
iMoMo initiative in Central Asia
CGIAR Research Program on Dryland Systems in Central Asia.
Partners in the six case-study WUAs of Central Asia
Contact
Mr. Oyture Anarbekov, PhD Research Fellow
Department of Integrative Geography & Centre for Development and Environment (CDE)
Yunusabad District, Block 9, Tashkent, Uzbekistan
e-mail: Oyture.Anarbekov@cde.unibe.ch