Approaching water stress in the Alps (MontanAqua)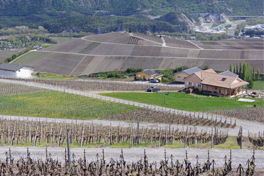 The MontanAqua project examined the water situation and water management of the Crans-Montana-Sierre (Valais) region. Within this framework, the researchers developed sustainable water utilisation strategies for the future together with the parties involved. The research team first analysed the current water availability and utilisation as well as the current water management in the region's eleven municipalities. This was taken as the basis for an examination of the future impact of climate, societal and economic change. The research team ascertained the current situation via quantitative and qualitative surveys in the terrain, and combined these with model calculations. When modelling the future, the research team considered regional climate scenarios and four scenarios of possible societal and economic developments, drawn up jointly with local players.
Project duration: 2010 - 2013
Partners
The research project is jointly carried out by the universities of Bern (hydrology group and CDE), Fribourg, and Lausanne.