Interactive Soil Quality Assessment (iSQAPER)
Interactive soil quality assessment in Europe and China
For agricultural productivity and environmental resilience
Providing decision-makers with reliable knowledge and data
Science-based, easy-to-apply, and cost-effective tools to manage soil quality and function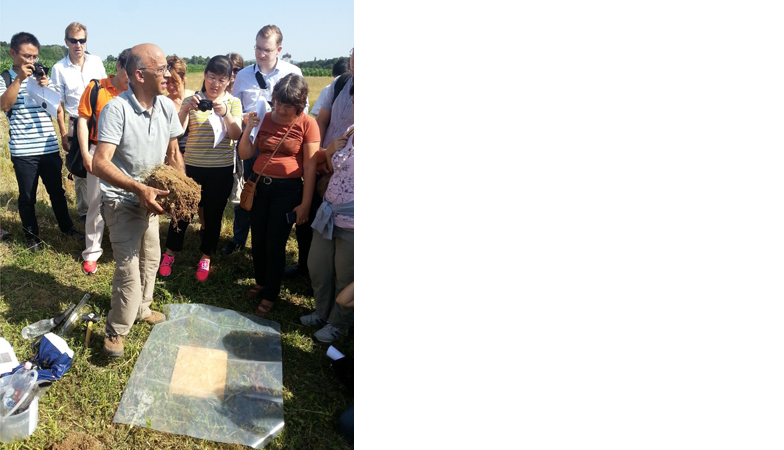 Background, problems addressed, and overall project goal
Good soil quality is fundamental to local and global food production and ecosystem resilience. Globally, agricultural soils face threats and pressures including growing demand for food and biofuels, changing diets, land degradation, and associated productivity decline. Reliable knowledge and data help land users assess their soils and make well-informed decisions about their use.
Methods
iSQAPER will review soil quality indicator systems and identify knowledge gaps in the interactions between agricultural management activities and soil properties. A Soil Quality Assessment Tool will then be developed and supported with experimental activities to close identified knowledge gaps. Testing and validation will be implemented via a multi-actor approach in 14 case study sites; innovative agricultural practices will be evaluated as to their potential for scaling up.
Summary of results
CDE's tasks include identifying relevant stakeholders, applying and testing the soil quality assessment tool with various actors, creating an inventory of soil quality status and applied agricultural management practices in case study sites, and evaluating innovative agricultural management practices to improve soil quality.
Institutional setting
Project coordinator: Prof. Coen Ritsema, Wageningen University, Soil Physics and Land Management Group.
Twenty-five project partners across Europe and China.
Funded by the European Union Horizon 2020 research and innovation programme, the Chinese Academy of Science and the Swiss State Secretariat for Education, Research and Innovation.
Project duration: May 2015 – April 2020