The Agrobiodiversity Initiative (TABI)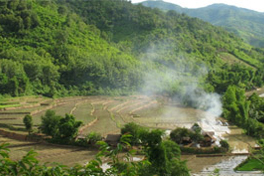 The Agrobiodiversity Initiative (TABI) is a long-term commitment by the Lao Government and the Swiss Agency for Development and Cooperation (SDC) that seeks to conserve, enhance, and manage the biological diversity found in northern Laotian farming landscapes in order to improve the livelihoods of upland farm families. During its first phase (2009–2012), TABI is geographically focused on Luang Prabang and Xieng Khouang Provinces in northern Laos.

CDE has been mandated to develop and implement an information/knowledge management component for TABI. Its primary aim is to help to improve the coherence of planning and decision-making across sectors and levels by fostering horizontal and vertical information/knowledge exchange. Within this component, TABI captures and capitalises on experience, and compiles relevant spatial and socio-economic data. The systematic sharing of such data and knowledge supports evidence-based policy- and decision-making within the project area and beyond. The current shortcomings of information sharing between Lao institutions are addressed using innovative approaches, including various online tools.
More information
For more information about the project visit the
TABI Website