Sustainable trade relations for diversified food systems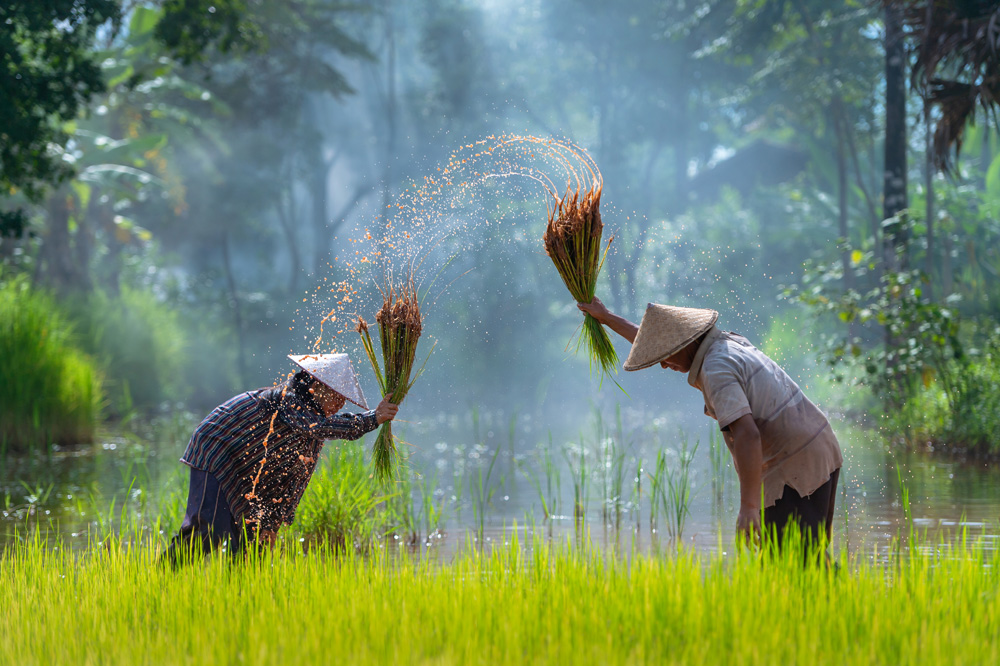 Food systems are highly interdependent. Making them more sustainable requires a joint approach. This project examines how governments can promote diversified food systems with sustainable trade relations.
Background
Diversified food systems are ecologically and economically valuable, distribute social benefits equitably, and contribute to a diversified food basket. They are more sustainable than specialized food systems that mainly emphasize quantities of food production.
One key lever for promotion of diversified food systems is the way in which trade relations are structured and implemented. This raises the question of the state's role in product differentiation: If a domestic government seeks to grant tariff preferences for sustainably produced food, how can it do so in an effective, proportionate, context-sensitive, non-discriminatory, and reliable way, complying with its international obligations and the objectives enshrined in its constitution?
Project goal
The aim of the project is to show how governments can distinguish between more or less sustainably produced food without violating basic principles of the trade framework, including the principle of non-discrimination.
This could enable more nuanced trade regimes and relations that are structured to promote diverse food systems.
Methods
The research project
combines comprehensive legal analyses – especially of trade law – with examination of "best practice" examples
identifies existing challenges of private certification schemes
explores the perspective of farmers
analyses new approaches to product differentiation
investigates certification issues critically and in context
develops transdisciplinary knowledge in workshops on location in Bolivia, Laos, and Switzerland.
Publications
Stefan Mann, Maria Haller A public economy perspective on private food certification and the role of the state, CDE 2021.
The paper addresses questions raised in Learning Field 6 of the project. The authors Stefan Mann and Maria Haller adopt a welfare-economic lens and explore the need to internalize diverse externalities, as well as the relevance of simplification from a transaction-cost perspective and a variety of other ecology and social issues. While acknowledging the need for future policy frameworks to provide sustainability-oriented market incentives, the authors present a threefold incentive structure to inform the synthesis process of the project: (1) If crop producers produce their crops under the social certification required, they should be subject to lower tariffs than today's status quo. The same should apply to importers of processed goods provided the agri-businesses in the chain are properly certified. Tariff reductions should occur in such a way so as to enable most of Switzerland's current agricultural area to remain cultivated, but in a sustainable manner. (2) For crop-based products without social certification and animal products with social certification, status quo tariffs could be maintained. (3) The trade options of importers of animal-based products without social certification should be tightened up, given the many negative externalities linked to such production.
Media response
«Der Palmöl-Ansatz könnte eine Dynamik auslösen»
Nach der Abstimmung über das Handelsabkommen mit Indonesien sagt Elisabeth Bürgi Bonanomi: Die Verknüpfung von Nachhaltigkeit und Zollreduktion beim Palmöl sei ein Meilenstein. Jetzt müsse der Fokus auf der Umsetzung liegen: «Es ist wichtig, die Idee nicht zu verspielen.»
Date 9.3.2021 | Source: AargauerZeitung
Freihandel mit Indonesien: Abstimmung mit Signalwirkung?
Es ist das erste Mal, dass eine konkrete Nachhaltigkeitsklausel Teil eines Schweizer Handelsabkommens ist. Was taugt die Klausel? "Der Ansatz ist sehr gut und es ist wichtig, dass er kommt. Aber er steht und fällt mit der Umsetzung", sagt Elisabeth Bürgi Bonanomi, Expertin für Nachhaltigkeit und Handel am CDE.
Date: 18.2.2021 | Source: SRF Rendez-vous
"Der Bundesrat macht es sich zu einfach"
Kann mehr Welthandel ökologisch sein? Ja, sagt Elisabeth Bürgi Bonanomi, Expertin für Nachhaltigkeit und Handel am CDE. Ein Interview über den umstrittenen Vertrag mit Indonesien und die Kraft einer Fussnote.
Date: 9.2.2021 | Source: NZZ
Ökotrend erreicht Freihandelsabkommen
"Schade, gilt das im Handelsvertrag nur für Palmöl und nicht auch für andere Produkte wie Holz oder Kautschuk. Aber es ist ein Anfang", sagt Elisabeth Bürgi Bonanomi vom CDE. Diese Produktdifferenzierung setze für indonesische Palmölproduzenten einen wichtigen Anreiz, zumindest einen Teil ihrer Palmölproduktion ökologischer und sozialer zu gestalten.
Date: 1.2.2021 | Source: swissinfo
"Sustainability doesn't come free"
On 7 March, the Swiss will vote on the EFTA trade agreement with Indonesia. The agreement is controversial due to the issue of palm oil – but it also bears something new: it is the first trade agreement with Switzerland that makes tariff reductions for imports contingent on compliance with principles of sustainability. What does this trade agreement achieve with regard to sustainability? And what does it miss? Trade law expert at CDE, Elisabeth Bürgi Bonanomi, explains the pros and cons.
Date: 28.1.2021 | Source: CDE-Spotlight
Die Sicherung, von der alles abhängt
Kritiker des Freihandelsabkommens mit Indonesien führen an, dass es keine gesetzliche Grundlage gebe, die es den Schweizer Bauern ermöglichen würde, den Bundesrat zum Handeln zu bringen, sofern bestimmte Kriterien erfüllt seien. «Die EU ist hier weiter», sagt Elisabeth Bürgi Bonanomi, Rechtswissenschaftlerin am CDE, Universität Bern.
Date: 26.1.2021 | Source: Der Bund
Im Schweizer Abstimmungskampf um das Handelsabkommen mit Indonesien geht es auch um Grundsatzfragen
Die vom Bundesrat vorgesehene Umsetzung des Abkommens durch Zertifizierung mit internationalen Nachhaltigkeitssiegeln ist gemäss dem Schweizer Berater Urs Baumgartner ein Problem: «Das Abkommen wird dazu beitragen, vom globalen Norden aufgezwungene Instrumente wie den RSPO zu legitimieren.» Solche Standards würden aus wirtschaftlichen Gründen oft die Kleinbauern ausschliessen.
Date: 20.1.2021 | Source: NZZ
Vertrag mit Indonesien betritt Neuland
"Im Rahmen der Entwicklungsfinanzierung und zusammen mit Indonesien sowie den betroffenen Leuten können die EFTA-Länder die Umstellungsprozesse auf nachhaltige Anbausysteme anstossen und begleiten. Solche Mittel wurden im Abkommen zwar in Aussicht gestellt, bislang aber noch nicht beziffert", so CDE-Handelsexpertin Elisabeth Bürgi Bonanomi im Interview.
Date: 14.1.2021 | Source: infosperber
Indonesien-Abkommen: Verordnungsentwurf
Zollsenkungen mit der Einhaltung von Nachhaltigkeitskriterien im Handelsabkommen mit Indonesien zu verknüpfen, sei eine gute Idee, aber die Sache stehe und falle mit der Umsetzung. Diese sei im Verordnungsentwurf auf den ersten Blick oberflächlich: CDE-Wissenschaftlerin Elisabeth Bürgi Bonanomi.
Date: 19.12.2020 | Source: NZZ
Nachhaltiger Handel: So geht's
Die Schweiz hat es in der Hand, ob ökologisch und sozialverträglich produzierte Nahrungsmittel hierzulande Nischenprodukte bleiben oder zur Norm werden. Elisabeth Bürgi Bonanomi, CDE, im Interview zu nachhaltigen Handelsregeln, wie sie im Fall von Palmöl mit Indonesien vereinbart wurden.
Date: February 2020 | Source: UniPress
Handelsabkommen: Gute Rahmenbedingungen für die Nachhaltigkeits-Positionierung schaffen
«Viel effektiver als allgemein gehaltene Zielvereinbarungen wäre es, die gewährten Zollkonzessionen direkt mit Nachhaltigkeitsvorgaben zu verknüpfen», sagt Elisabeth Bürgi Bonanomi, CDE, im Interview.
Date: 11.12.2019 | Source: Lebensmittel-Industrie
Events
Sustainability through trade agreements? The case of palmoil
Public zoom webinar on "Sustainability through trade agreements? The case of palm oil" on 10 December 2020, 18:00 CET. With Dr.iur. Elisabeth Bürgi Bonanomi, CDE, University of Bern, and Dr. Denis Ruysschaert, Political Ecologist. https://bit.ly/33mWcAu